Kin Custom
Luxury Blue Leather | Women's Faux-Leather Sneaker
Regular price
$73.95
$0.00
Unit price
per
𝑫𝒖𝒓𝒂𝒃𝒍𝒆, 𝒀𝒆𝒕 𝑺𝒕𝒚𝒍𝒊𝒔𝒉
Designed with comfort in mind, our Luxury Blue Leather Classic Women's Faux-Leather Sneaker is durable yet stylish. A lot like you. With a breathable lining and soft insole, this ticks all the boxes for an everyday pair of shoes. Each pair of shoes is printed, cut, and handmade after you order them. Meaning it didn't exist before you decided you wanted to make them yours. Made from 100% ethically sourced materials and shipped with recycled packaging, these aren't your average pair of shoes. Shipping is free too.
𝑷𝒓𝒐𝒅𝒖𝒄𝒕 𝑫𝒆𝒕𝒂𝒊𝒍𝒔:
👟 100% Recycled Packaging & Ethically Sourced Materials
👟 Breathable lining, Soft insole
👟 Upper: 100% Polyester, Canvas
👟 Outsole: Ethylene-vinyl acetate (EVA) rubber
👟 Faux leather toe cap
👟 Lace-up front
👟 Padded collar, tongue
👟 Spot clean only
👟 Printed, cut, and handmade
𝑺𝒊𝒛𝒆 & 𝑭𝒊𝒕:
🎯 Runs True to Size
📏 See the size chart 
𝑾𝒉𝒆𝒏 𝑾𝒊𝒍𝒍 𝑰 𝑹𝒆𝒄𝒆𝒊𝒗𝒆 𝑴𝒚 𝑶𝒓𝒅𝒆𝒓?
Because every product is handmade on-demand and we do not carry inventory, we average 3 business days of production and offer the following shipping methods:
👉 Premium (International): 4-7 business days, dropshipped to you directly from China.
𝐓𝐨𝐭𝐚𝐥 𝐄𝐱𝐩𝐞𝐜𝐭𝐞𝐝 𝐓𝐢𝐦𝐞:
👉 Production: 3 business days
👉 Shipping: 4-7 business days
👉 Total: 7-10 business days from time of order
𝑾𝒉𝒂𝒕 𝒄𝒐𝒖𝒏𝒕𝒓𝒊𝒆𝒔 𝒅𝒐𝒆𝒔 𝒕𝒉𝒊𝒔 𝒑𝒓𝒐𝒅𝒖𝒄𝒕 𝒔𝒉𝒊𝒑 𝒕𝒐?
𝐍𝐨𝐫𝐭𝐡 𝐀𝐦𝐞𝐫𝐢𝐜𝐚:
🇺🇸 United States
🇨🇦 Canada
🇲🇽 Mexico

𝐄𝐮𝐫𝐨𝐩𝐞:
🇬🇧 United Kingdom
🇮🇪 Ireland
🇦🇹 Austria
🇧🇪 Belgium
🇨🇿 Czech Republic
🇨🇾 Cyprus
🇩🇰 Denmark
🇫🇮 Finland
🇫🇷 France
🇩🇪 Germany
🇬🇷 Greece
🇭🇺 Hungary
🇮🇹 Italy
🇱🇻 Latvia
🇱🇺 Luxembourg
🇳🇱 Netherlands
🇳🇴 Norway
🇵🇱 Poland
🇵🇹 Portugal
🇸🇰 Slovakia
🇸🇮 Slovenia
🇪🇸 Spain
🇸🇪 Sweden
🇨🇭 Switzerland

𝐎𝐜𝐞𝐚𝐧𝐢𝐚:
🇦🇺 Australia
🇳🇿 New Zealand

𝐀𝐬𝐢𝐚:
🇭🇰 Hong Kong
🇯🇵 Japan
🇲🇴 Macau
🇲🇾 Malaysia
🇸🇬 Singapore
🇰🇷 South Korea
🇹🇼 Taiwan
Need to convert inches to cm?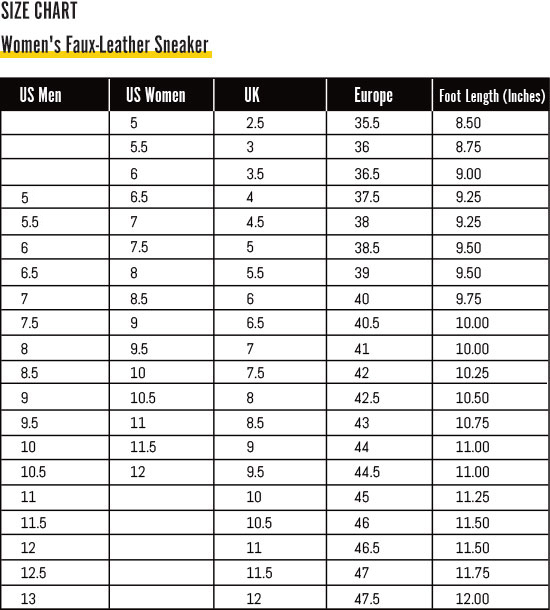 Material & Care
Upper: Polyurethane (PU), faux leather
Outsole: Ethylene-vinyl acetate (EVA), rubber 
Wipe clean
Imported 
---
Share this Product
---