ArtsAdd
Leafy Green | Melete Pleated Midi Skirt
Regular price
$59.95
$0.00
Unit price
per
𝑪𝒍𝒂𝒔𝒔𝒊𝒄 𝑺𝒕𝒚𝒍𝒆, 𝑵𝒐 𝑴𝒂𝒕𝒕𝒆𝒓 𝑻𝒉𝒆 𝑺𝒆𝒂𝒔𝒐𝒏
A pleated midi skirt is a true classic. Not just for dressing up anymore, they are an easy alternative to shorts & dresses. Casual pleated midi skirts are trendy these days because you can mix & match them with just about anything! Whether you're looking for an office-friendly outfit or a pleated midi skirt to wear out and about, this Leafy Green Melete Pleated Midi Skirt is a versatile piece that can stretch the options in your closet. Shipping is free too. 
𝑷𝒓𝒐𝒅𝒖𝒄𝒕 𝑫𝒆𝒕𝒂𝒊𝒍𝒔:
👉 Material: 100% Polyester
👉 11.43 Oz. 
👉 Flare-out style.
👉 Invisible zipper
👉 Hand wash in cold water only.
👉 Sizes: XS, S, M, L, XL, XXL, XXXL
👉 Design is imprinted using an advanced heat sublimation technique.
👉 Please note that because each item is made to order, and takes about three weeks to arrive.
𝑴𝒐𝒅𝒆𝒍 𝑴𝒆𝒂𝒔𝒖𝒓𝒆𝒎𝒆𝒏𝒕𝒔:
👉 Height: 5'9 / 175cm
👉 Waist: 24" // 60cm
👉 Hip: 35" / 90cm
👉 Model is wearing a small 
𝑯𝒐𝒘 𝒍𝒐𝒏𝒈 𝒅𝒐𝒆𝒔 𝒑𝒓𝒐𝒄𝒆𝒔𝒔𝒊𝒏𝒈 𝒕𝒂𝒌𝒆? 
Typically 3-7 business days to print and manufacture your order. Please NOTE: Production time is separate from shipping times. 
𝑾𝒉𝒆𝒏 𝒘𝒊𝒍𝒍 𝑰 𝒓𝒆𝒄𝒆𝒊𝒗𝒆 𝒎𝒚 𝒐𝒓𝒅𝒆𝒓? 
Our average delivery time for standard shipping is 10-15 days
𝑺𝒊𝒛𝒆 𝑪𝒉𝒂𝒓𝒕: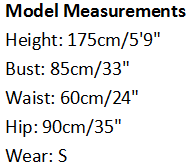 ---
Share this Product
---